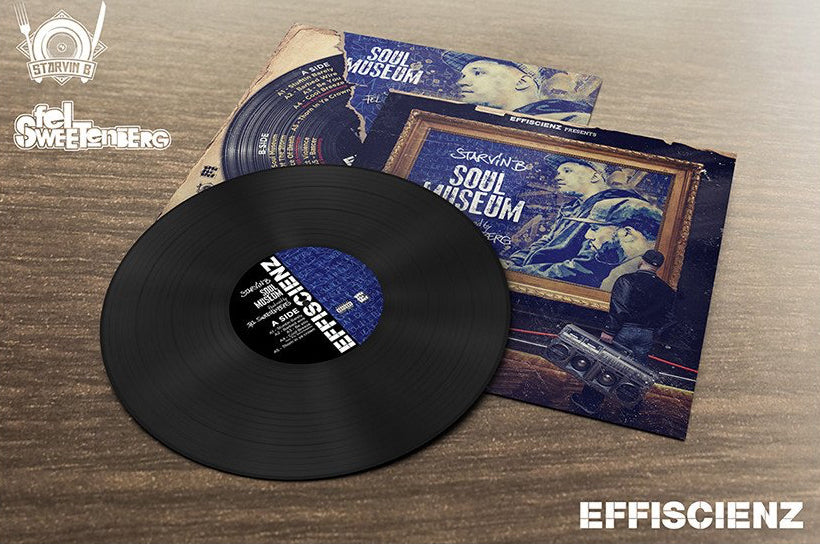 Fel Sweetenberg & Starvin B "Soul Museum" (LP)
€17.99
Product:  Vinyl (Limited Edition)
Artist: Fel Sweetenberg / Stravin B
Album: Soul Museum
Release Date: April 27, 2015
01 Stuntin Barely
02 Barbed Wire
03 Be You
04 Cool Breeze feat. Fel Sweetenberg
05 Thorn In Ya Crown
06 Soul Museum
07 Eye Of The Storm
08 Dance Of Death feat. Fel Sweetenberg & Raf Almighty
09 Respect Violence
10 Bascer feat. Nutso & Fel Sweetenberg
All songs produced by Fel Sweetenberg
Mixed by DJ Brans
Mastered by by Miloud Sassi for db Master Pro
Artwork by Gustavimages
Album Description
Fel Sweetenberg strikes back with a new opus on Effiscienz records ! But this time it's more the beatmaker than the emcee that we discover even if he's featured on a few tracks.
In fact, this album is the result of the partnership between Camden's finest emcee/beatmaker and Queen's notorious Starvin B. Fel delivers minimalist soulful beats that perfectly fit Starvin's devastating flow who drops precise and technical rhymes effortlessly all over the project.
But Fel doesn't abandon the mic and gives his fans a few reasons to nod their heads with his caracteristical flow resonating like a burst of an AK47.
Dirt Platoon's Raf Almighty, a long time partner of Fel is also featured on the project as well as Nutso who's a close friend of Starvin, Queens connection ! 
Here's a new album you can't miss on which Fel proves you have to remember him not only as a rapper but also as a gifted beatmaker.
This emcee/beatmaker combination works perfectly and they complete themselves fully to deliver a soon to be classic album that you will never get enough of...
Executive Produced by Loscar
EFFISCIENZ Copyright 2015
www.instagram.com/effiscienz
www.facebook.com/effiscienz.records
www.twitter.com/effiscienz
www.youtube.com/effiscienz